Vegan Raspberry Coconut Bars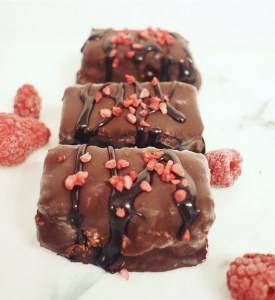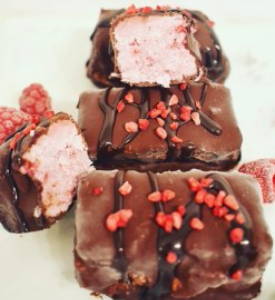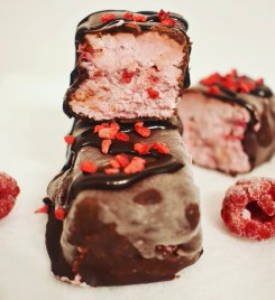 ---
These Raspberry Coconut Bars taste similar to the regular bounty bar with a raspberry twist. Unlike regular bounty bars they are also refined sugar free, gluten free and vegan.
These bars are lower in protein than my usual snacks and quite high in fat, therefore I would see these bars as more of a treat to be enjoyed as a dessert rather than a snack I might every day. The fat comes from the desiccated coconut, coconut flour, milk and oil used in the recipe therefore it is of course healthy fats.
They can be stored in the freezer meaning they will keep for much longer and you won't feel like you do need to eat them all at once!
Don't forget to tag me on Instagram at  cleanleanbakes and use the #cleanleanbakes hashtag. I love seeing your takes on my recipes!
100g (1 cup) desiccated coconut

30g (1/3 cup) coconut flour

165 ml (1/2 cup) full fat coconut milk

75g (1/2 cup) raspberries – fresh or frozen

2 tbsp coconut oil

35ml low calorie fruit syrup

1 tsp beetroot powder (optional)

For the topping:

100g dairy-free 70% dark chocolate, melted

Freeze- dried raspberries
Add all the ingredients to a pan and cook over a low heat, mashing the raspberries as you mix.

Once all the ingredients are melted and the mixture is well combined, take off the heat.

Transfer into a loaf tin lined with parchment paper and spread with a spoon.

Freeze for 2 hours then slice into 8-10 bars.

Coat with the melted chocolate and sprinkle with some dried raspberries.

Refrigerate to allow the chocolate to set.

Enjoy!

Store in the fridge for up to 5 days or freezer for a month
Serving size: 1
Calories: 210
Fat: 18
Carbohydrates: 8g
Protein: 2.2g